Details

Published: Wednesday, 11 December 2019 14:58
Written by Ben Tasker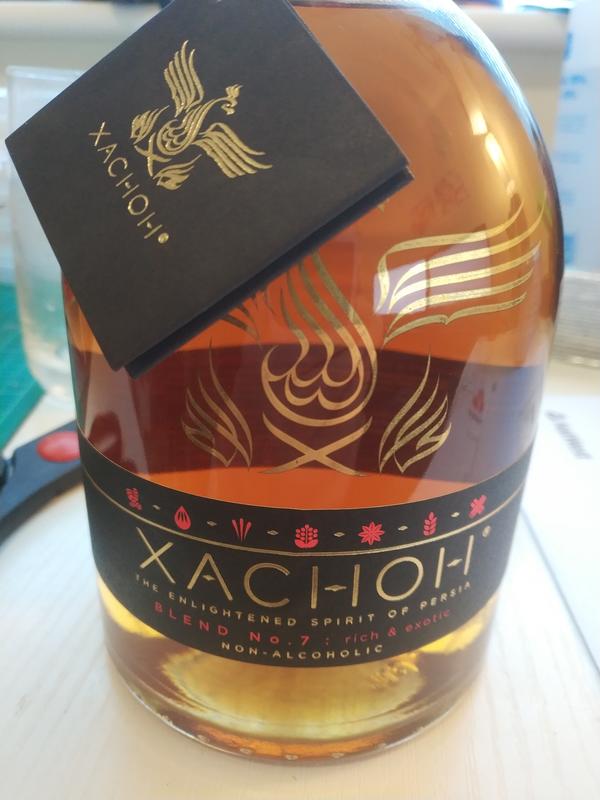 With the change in weather, I'm having to take painkillers a lot more regularly, which means I can't drink.
I thought, as an option, I'd explore some non-alcoholic spirits - there seems to be quite a market for them, so there must be some good ones out there.
I did have some luck in finding some "gin". However, whilst searching, I stumbled upon "Xachoh Blend No. 7 Non Alcoholic Spirit", which lists the following tasting notes
Xachoh Blend No. 7 has a warm and richly spiced aroma. The prominent flavours of ginger root and blades of mace strike a perfect blend of warmth, spice and a subtle fruitiness. The luxurious aroma of cinnamon quills brings sweetness to the nose and palate, balancing perfectly with saffron & the other spices. Dark crystal malt adds delicious toasted notes and a real depth of flavour, similar to that of a well-aged dark spirit. All of these rich and dark flavours are balanced by a refreshing acidity of sumac on the palate, leaving the way for a long finish and an eagerness for that next sip.
Sounds good eh? As with anything on Amazon, reviews were incredibly mixed, some love it, some hate it.
So, as it sounded good, I took a risk and ordered a bottle.
It arrived this morning: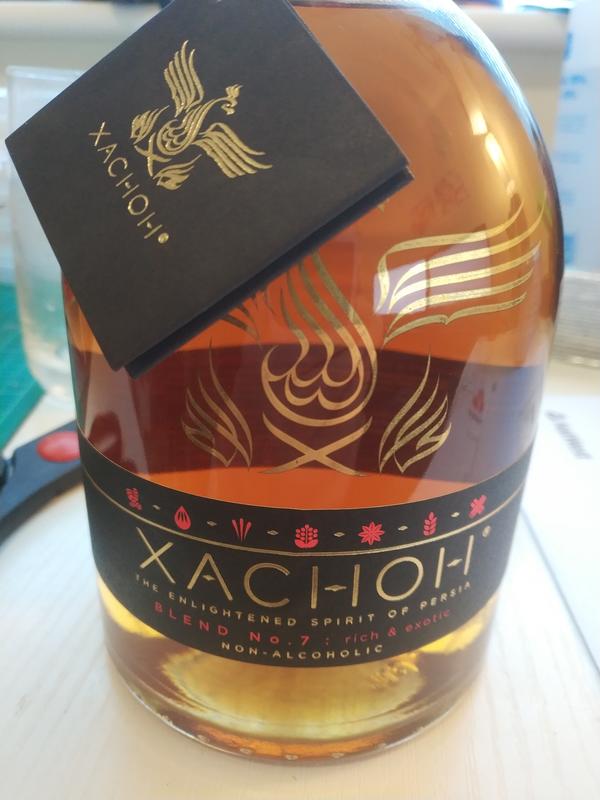 So having been looking forward to it's arrival, I had a little taste. 
It's got a nice and very varied aroma to it. But things go downhill once you get it to your mouth - if it was just a little less watery, I'd probably be looking to add Ribena to it.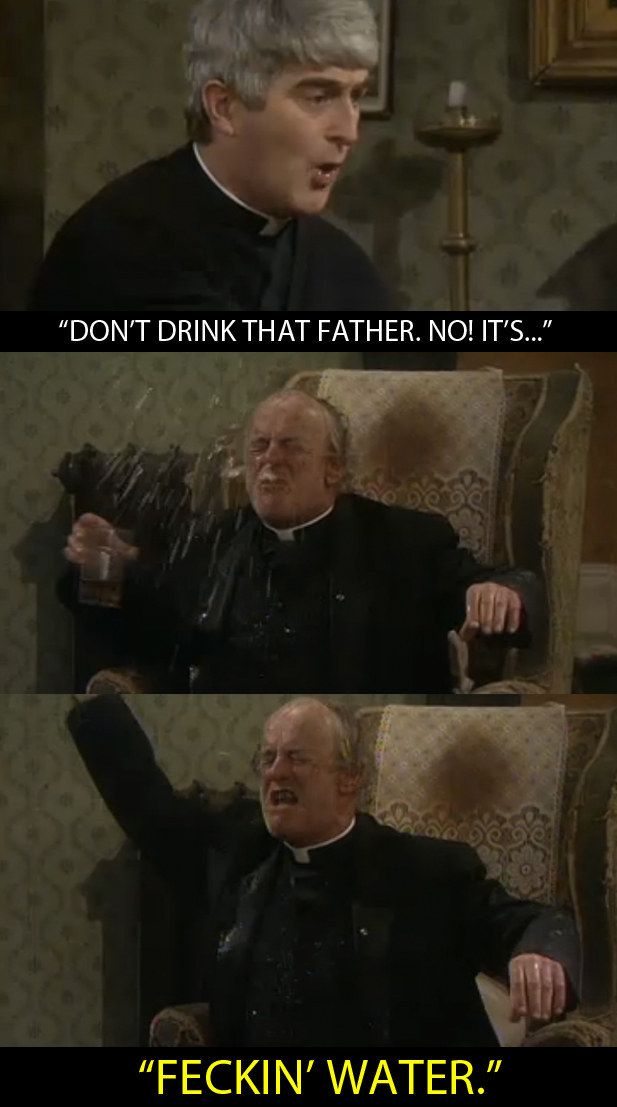 Disappointing doesn't cover it, the only trace of flavour it has is a somewhat unpleasant aftertaste. Unfortunately, if you mix it with ginger ale, it transpires that all you get is ginger ale with a horrendous aftertaste.
The answer for why lies on the back label (and in fairness *is* listed on the Amazon listing)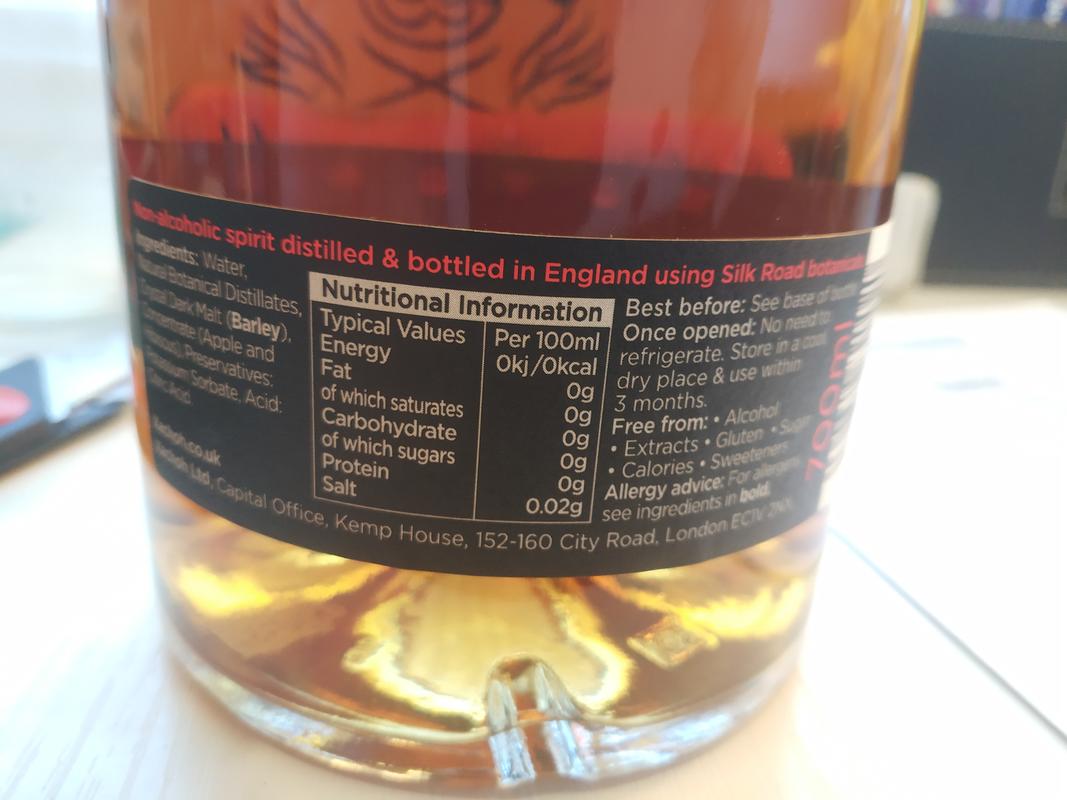 Free from:
Alcohol
Extracts
Gluten
Sugar
Calories
Sweeteners
With the exception of a tiny bit of salt, the nutritional information is just 0's. This stuff is literally water with some Barley Malt and a few flavourings.
It's "natural", it Gluten Free, it's vegan, it's... it's fucking shit and it's destined for the drain. Yuck
But, rather than pour a £30 bottle of water down the drain, I thought I'd have a go at improving it first - worst comes to worst I'm just pouring a slightly more expensive bottle of water down the drain, and it's not like I could realistically make it much worse.
As I'm extremely unlikely to try making this again, and there's not a lot of room there for snark, I figured this was better placed here than on my recipes site.