Details

Category: Vehicles
Published: Thursday, 19 July 2018 14:22
Written by Ben Tasker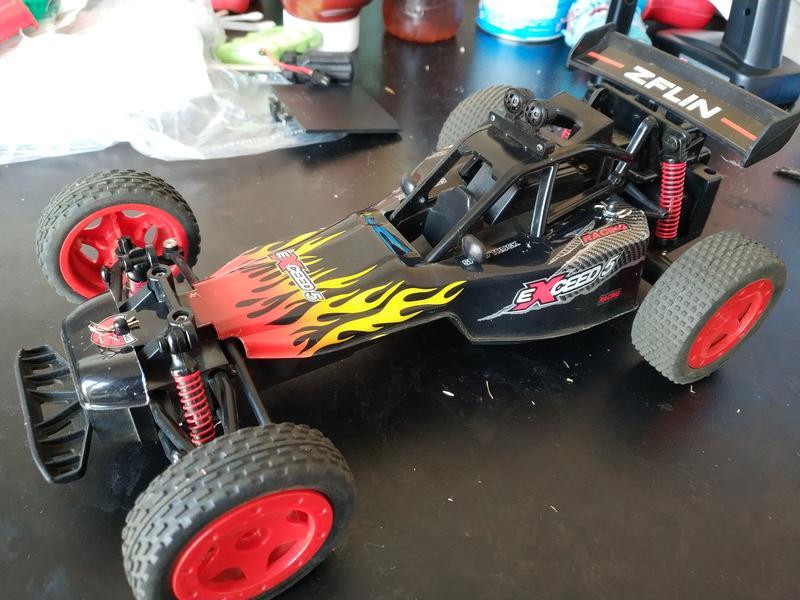 I bought a couple of (relatively) cheap Remote Control off-roaders on Amazon - primarily for having a bit of fun driving them about in the garden.
Although ostensible different brands, models and sellers, the two cars are exactly the same except for the colour of the wheels and the cowling fitted.
The cars are:
Although they differ on Amazon, the boxes both show as "Top Racing Series". The ZFlin car carries a model name of the "Pillager" whilst the other is the "Warrior".
They were fairly cheap when I bought them, and unsurprisingly, are made in China. They do nip around quite nicely
However, I hit an issue that's alluded to in some of the reviews (on both) - after a few outings the gearbox appears to fail.
Initially, you get a slipping clutch effect where the motor will rev up quite a bit before the car starts moving, eventually degrading to it sitting stock still and just making a whining noise (the difference in time between these two states, in my case, was about 10 minutes of driving time). The assumption most have made is that the motor is overrated for the gearbox and has destroyed the gears.
Inevitably, this happens after you've thrown the packaging away. As helpful as Amazon are, I didn't want to deal with their returns system, so I decided to strip the car down instead to see if it could be repaired.
Turns out the issue is much simpler than I'd assumed. This documentation details how to (quite easily) repair the car.